About OGame
Build, Attack, Defend, Explore, or Research. Develop your space empire in the way you want, with the play style you want. Patience and planning are rewarded with a strong and flexible account that can be played on and off for years.
find out about the latest game version
.
Did you know...
...a variety of universes exist to cater to various play styles and goals?
...that a variety of helpful tools, calculators, and simulators have been developed by the community of players?
...that forums have been a key part of the game experience from the beginning?

Featured content
We need your help!
Details of OGame change as new versions are released. We need your help to keep this wiki up to date with the latest developments.
Welcome

Welcome to the OGame Wiki. It is an unofficial collaborative encyclopedia about OGame. Its purpose is to make it easy for OGame players to find the information they need to understand and succeed in the game.
If you would like to help, please do!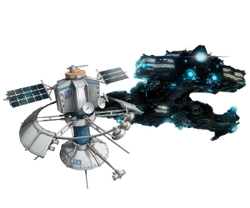 This wiki is edited by players and fans of the game. Neither officials nor developers from Gameforge are involved or have a relationship with this wiki. Please visit the Gameforge support page if you wish to contact them.
Community content is available under
CC-BY-SA
unless otherwise noted.